Did someone say Hospitality Suite??


District Conference April 27-30

Where the fun begins and keeps on going into the night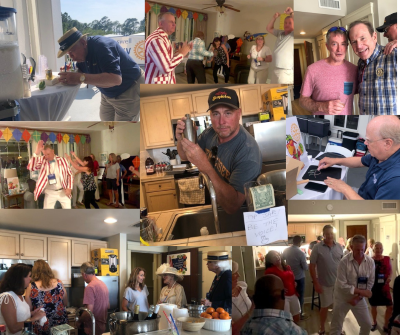 Margarita machine on the deck, bar inside with talented bartender, dancing, food, meeting all of the other clubs...Roswell Rotary Hospitality Suite is legendary. Best music, best dancing, super fun!!! The Hospitality suite is the place to meet up before events,after events, to grab a bite before heading down to the pool or beach,to partake of the best margarita and other adult beverage alive!
And in the mornings, there is always breakfast and the bottomless coffee pot, ready to recharge you for another day of fun and fellowship.If you have not attended before, just know that Roswell Rotary's Hospitality Suite is THE meet up place for the conference. Everyone passes through the door at some point. It's a proud reputation and we need you to continue carrying the torch (or refilling the margarita machine-your choice).
Hope you can join us April 27-30 for District Conference 2023. Make your reservations today! Registration and Accommodations Link
Posted by Kathryn Igou
January 31, 2023