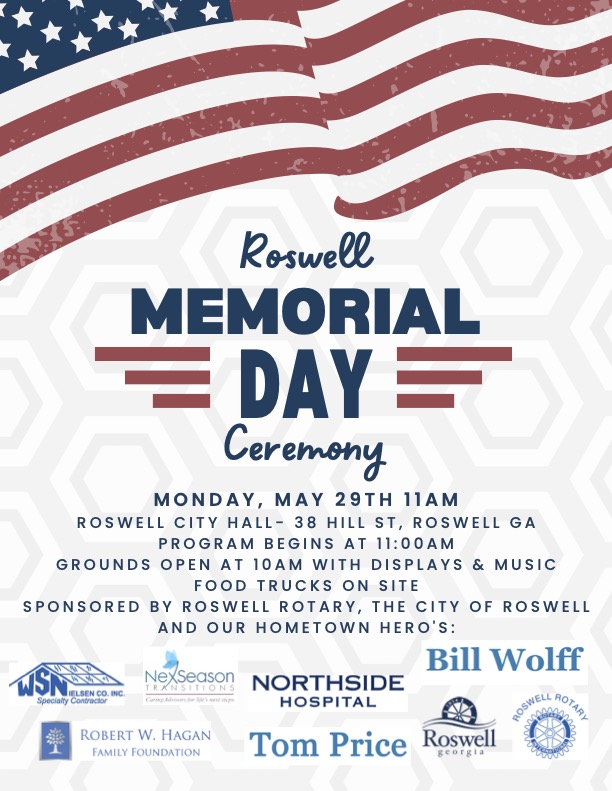 For 23 years, thousands of people from Roswell and the State have joined the Rotary Club of Roswell and the City of Roswell to honor the men and women who gave the ultimate sacrifice in the defense of our Country. The 24th annual Roswell Remembers Memorial Day Ceremony will be held at 11:00 a.m. on Monday, May 29th at Roswell City Hall, 38 Hill Street.

The grounds open at 10:00 a.m. with displays and music provided by Roswell New Horizons Band. The program will include a military ceremony, presentation of colors, the national anthem, Pledge of Allegiance, POW/MIA tribute and laying of the wreath.
Sunny K. Park, a native of South Korea, is the guest speaker. Mr. Park has served as Commissioner of the White House Advisory Commission, Vice Chairman of Georgia Ports Authority, along with non-profits' boards including Korean War Veterans Memorial Foundation and USO Georgia. He is a 2000 USO Patriot Award Recipient and named as one of the most influential Atlantan's.
Mr. Park immigrated to the United States in 1974 with no money. Today he is President of Global Sun Investments. None of this would have been possible without the support of the US Military where he as a young child benefited.
At the conclusion of the program, lunch may be purchased through food trucks, Tres Jardines, Eggroll Boyz, and Patty Wagon located on the grounds.
Roswell Rotary Club and the City of Roswell would like to thank our Hometown Hero Sponsors for their generous contributions to the 2023 Roswell Remembers Memorial Day Ceremony. Robert W. Hagan Family Foundation, Nex-Season Transitions, Northside Hospital, Tom Price, Bill Wolff, W.S. Nielsen Co. Inc., Roswell Rotary Club, and the City of Roswell.