Past Presidents- The Game


President's Message July 7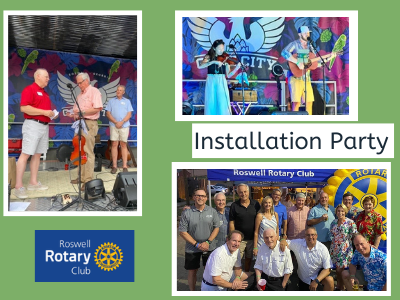 What a fantastic time we had last Thursday evening kicking off another Rotary year at Gate City Brewing with the induction of our 2022-2023 officers and board. Thank you all that came out for a great night of music, food and fun. We said thank you to our "smart dressed man" Terry Taylor for leading us through a great Rotary year, welcomed our new District Governor George Granade, and enjoyed the music of Crooked Wits. I hope that the other hundred or so folks there at Gate City that night got a taste of how Roswell Rotary rocks.
I am honored to serve as the 72nd president of the Rotary Club of Roswell and follow in the footsteps of so many great past presidents. We are a club that gets things done in our community and around the world and have a lot of fun doing it!

This Thursday we will test your knowledge about Roswell Rotary history as we play "Past President's - The Game". No, we aren't going to lock the doors and do dastardly things to our past presidents. Come see how much we know and get a taste of more to come this year.
Posted by John Carruth
July 5, 2022