After Hours' Next Meeting is TONIGHT!
Mental Health + Vets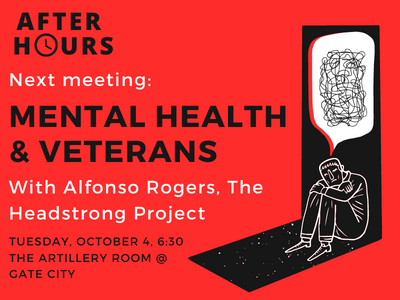 Two of After Hours' passion points are veterans and mental health. So, we are excited to combine the two topics as we welcome back our favorite vet, Alfonso Rogers! Formerly, with the VEO, Alfonso currently serves as the Regional Development Director for The Headstrong Project. Headstrong is a national mental health treatment practice for veterans and their families. We look forward to hearing Alfonso speak on the importance of mental health in the military community and how we can support. See you tonight--same time, same place!
Save the date: RRAH is having a special virtual meeting on Tuesday, November 15th. Join us as we dive deeper into suicide prevention with a virtual course: Talk Saves Lives: An Introduction to Suicide Prevention. Sponsored by the American Foundation for Suicide Prevention, the community-based presentation will cover the general scope of suicide, the research on prevention and what people can do to fight suicide. All Rotarians are invited and more information will be shared closer to time.
Posted by Amanda Verdin
October 4, 2022