President John's Message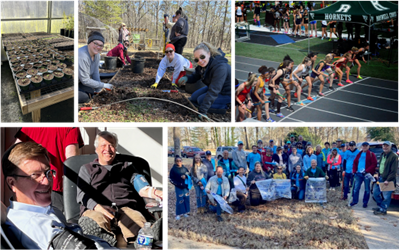 March is only a week old and already we've completed two great service projects. Many of us read to Kindergarteners in the Roswell High cluster of elementary schools last Thursday morning as part of Read Across America. What a delight it was to see the eagerness in young faces to hear a poignant story about friendships.
And our After Hours Club turned out in force to help serve at the Beer Festival supporting STAR House on Saturday. They manned a triple sized tent all afternoon, pouring and greeting many folks who turned out on a gorgeous March day.
There's more…this Rotascope describes more ways to get out in the early Springlike weather throughout the month of March and serve our youth and our community. Opportunities include
• March 11 - Unity Garden volunteering Round 2. Time dig in the dirt again - signup below.
• March 18 - Roswell Rotary Relays at Roswell High School. Great day of track and field with many volunteers needed - signup below.
• March 25 - Sweep the Hooch - annual springtime cleanup of our portion of the Chattahoochee River along Riverside Road. Great way to get the whole family involved in service - signup below
• March 25 - Rotary Scholarships Essays Review - need an inside task, come help read essays from high school students seeking one of our four scholarships that we give each year.
• March 27 - Spring Blood Drive at Gate City Brewing - Give a Pint Get a Pint is back. Reserve a spot today to give lifesaving blood.
Rotary is about Service Above Self. Take the opportunity to get involved in Service this March.
Posted by John Carruth
March 7, 2023 8:00am