New Members-We Need You


Honor Air Basketball Tournament-Nov. 19, 21, 22

We Are Back for Honor Air!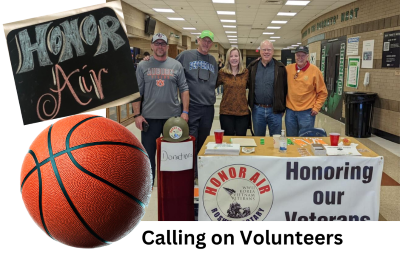 What Roswell Rotary volunteer opportunity provides the chance to honor our veterans, be involved with student athletes, make your star crock pot specialty, serve food to coaches, referees, and staff working the event from Rotary and the high school, and spend some one-on-one time with your fellow Rotarians - new and seasoned? It's Honor Air Basketball Tournament for sure!!!
The tournament is held at Roswell High School ( 11-19, 11-21, and 11-22 ) and we will need volunteers to help man the ticket sales table at the gym and others to assist in the hospitality suite for lunches and dinners we will be providing on those days . A perfect opportunity for new members to assimilate to the Club and for the Satellite Club to help the Parent Club with an important project. The energy of the students and the happiness of our volunteers makes this a very special volunteer moment. We hope you will say YES to being a part of this event that raises money to honor our veterans!
To volunteer, click here RHS & Roswell Rotary Honor Air Invitational: Honor Air Invitational Volunteer Sign Up (signupgenius.com) Questions about volunteering can be answered by contacting Dave Young nfultonpt@juno.com, Gene Beckham gene@bfsga.com, Lynne Lindsey lynnehlindsay@outlook.com , or Jack Wyche javic@msn.com
Posted by David Young
November 19, 2022